Why should you choose manufacturer EWAC Medical as your partner for a swimming pool floor? If you are looking for a movable floor, you want to choose the best floor and partner possible.
After 30 years in the industry, we know where the market is heading. Our R&D team is continuously developing new features for the movable swimming pool floor. Because we work closely with our customers and install the movable floor systems ourselves, we know what our customers need and the challenges they face. In the past couple of years, we have been improving our products, and recently we have renewed our ISO certification. The ISO 9000 family of quality management systems standards is designed to help organizations ensure that they meet the needs of customers and other stakeholders while meeting statutory and regulatory requirements related to a product or service.
But, what makes our movable swimming pool floor different from others? Why manufacturer EWAC Medical?
Water hydraulic cylinder eliminates the risk of contamination with toxic hydraulic oil
First movable floor passing the important EN 152288:2018, Annex A, Dye test
ISO Certified
Tiles with safe anti-slip surface enhancing patient safety
Excellent water-hygiene, important for patients with a high infection risk
The floor can move at an unprecedented speed of 800mm/min, which dramatically increases the efficiency of patient transfer
Optional integrated underwater treadmill, expanding treatment options
Fits in any pool, concrete or our stainless steel (modular) pools
Modular design, so all components fit through standard doors or windows
No welding on site
Adaptable to tailor-made pools
We offer excellent advice to promote patient handling efficiency and patient logistics in- and outside the pool
The lifespan of 25+ years
No divers needed during service and maintenance!
In-house service and maintenance engineering team, with quick response
Yearly service and maintenance, with a predictable pattern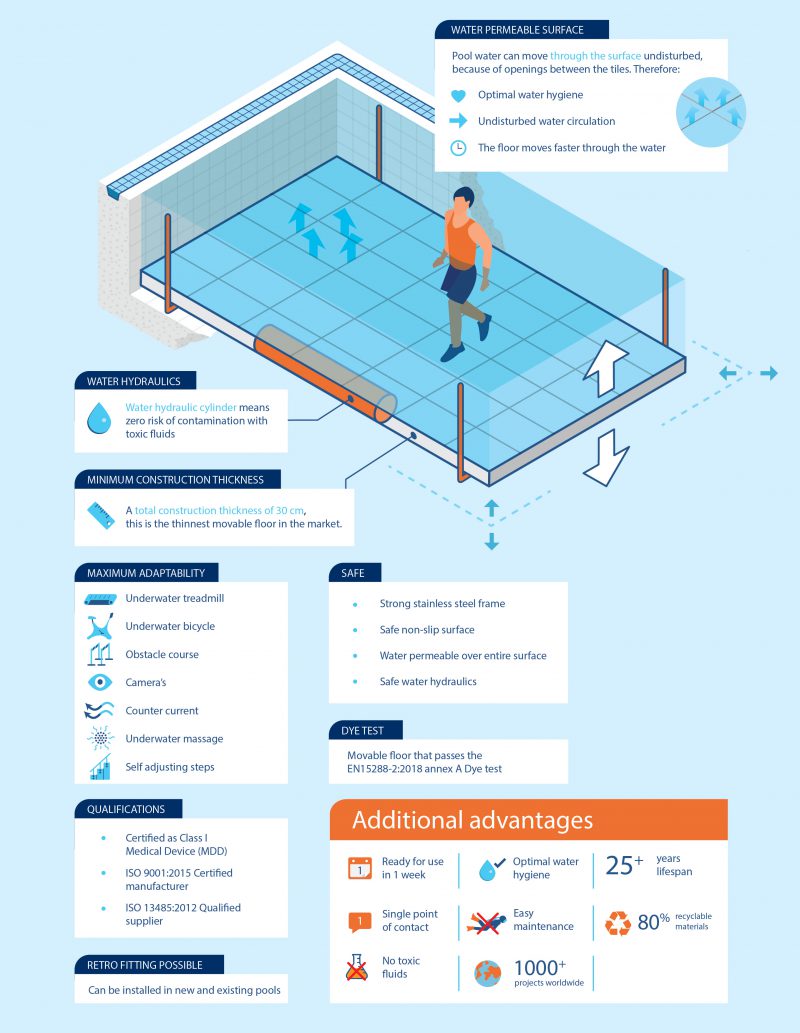 This is why manufacturer EWAC Medical has been a professional partner worldwide for 30 years. If you would like to resell our products please get in touch with us via medical@ewac.nl.
---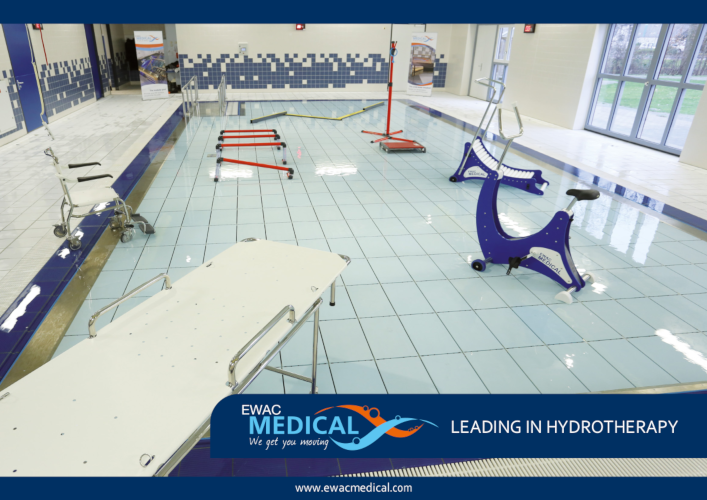 Interested in our products? Download our corporate brochure.
[email-download download_id="11695″ contact_form_id="13953″]