Application
For patients seeking relief from pain and improved joint mobility, EWAC Medical's Modular pools are a beacon of hope. These pools, specifically designed for aquatic rehabilitation, provide a controlled and safe environment for therapeutic exercises. The water's buoyancy directly addresses the needs of those with mobility issues or injuries, allowing for movements that alleviate joint stress and pain. Moreover, the water's natural resistance is not just for workout intensity; it's a gentle yet effective way to enhance joint flexibility and muscle strength. Recognizing the diverse needs of rehabilitation centers, these Modular pools are also designed for easy setup and removal, ensuring that even facilities without a permanent pool can offer this crucial therapy to their patients.
A quality investment
EWAC Medical's Modular pools, crafted in our controlled factory setting, bring a host of benefits over traditional concrete pools. Their modular design ensures easy transport and swift on-site assembly. These pools stand out for their customization options, from shapes and sizes to features like steps and benches. Made of durable stainless steel, they're built to last. While there's an initial investment, the long-term savings in construction and maintenance make them cost-effective. Plus, their portability means they can be relocated if needed. With stringent quality control, these pools guarantee consistent quality and precision. In essence, EWAC Medical's Modular pools are a modern, durable, and adaptable choice for prospective pool owners.
Product Modular Pool
We can convert any useful space into a hydrotherapy area. Our freestanding modular pool may be erected in any place. Hydrotherapy is thus made available to nursing homes, hospitals, and minor rehabilitation clinics. While the patient is performing exercises in the water, the therapist may accurately track and correct the movements via observation windows on the pool's sides.
The modular pool can be customized with a variety of extras, including a movable swimming pool floor and an underwater treadmill.
Why stainless steel is better
In many cases, a stainless steel pool is a much better solution than a pool out of concrete or polyester. Read more.
Knowledge about Modular Pools
A modular pool is suited for treatment of individuals or small groups. The measurements of the pool make it suitable for all known methods of hydrotherapy. Our knowledge center offers a clear description of these methods in a few chapters.
Experience
EWAC Medical has been designing and building modular pools for over 25 years and has completed over 1.000 projects worldwide. We are constantly striving for development and innovation. Modular pools are custom-designed to meet the demands of the client and can be fitted in existing rooms. EWAC Medical has demonstrated that there is a solution for every problem. View our completed projects.
That is why EWAC Medical is world market leader in hydrotherapy.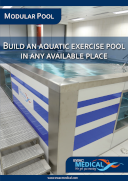 Read more about the importance of water hygiene
The importance of water hygiene in pools for hydrotherapy
How a movable floor influences water hygiene