Product Modular Pool
We make it possible to turn every usable room into a hydrotherapy area. Our freestanding modular pool can be assembled at every possible location. In this way, hydrotherapy becomes available for nursing homes, hospitals or small rehabilitation centers. While the patient does exercises in the water, the therapist can precisely track and correct the movements through observation windows on the sides of the pool.
The modular pool can be equipped with a great amount of accessories, of which a moveable swimming pool floor and an underwater treadmill.
Why stainless steel is better
In many cases, a stainless steel pool is a much better solution than a pool out of concrete or polyester. Read more.
Knowledge about Modular Pools
A modular pool is suited for treatment of individuals or small groups. The measurements of the pool make it suitable for all known methods of hydrotherapy. Our knowledge center offers a clear description of these methods in a few chapters.
Experience
EWAC Medical has designed and built modular pools for over 25 years and has successfully finished more than 1.000 projects worldwide. We continually work on improvement and innovation. Modular pools are designed and tailor made to the clients needs, and can be installed in existing rooms. EWAC Medical has proven there is a solution for every situation. View our projects.
That is why EWAC Medical is world market leader in hydrotherapy.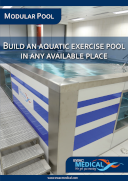 Read more about the importance of water hygiene
The importance of water hygiene in pools for hydrotherapy