Application
Movable swimming pool floors, also known as adjustable pool floors, are a testament to patient-centered innovation in aquatic rehabilitation. For many patients, especially those grappling with chronic pain or limited joint mobility, traditional land-based exercises can be daunting or even unattainable. The unique design of the movable swimming pool floor directly addresses these challenges by allowing the water depth to be tailored to each patient's specific needs. This personalized approach ensures optimal support and resistance, significantly reducing pain and enhancing joint mobility.
The buoyancy of water, a hallmark feature when using movable swimming pool floors, provides a gentle environment that alleviates undue stress on the joints. This is a game-changer for patients, especially those recovering from surgeries like hip or knee replacements, or those enduring conditions such as arthritis or fibromyalgia. The water's buoyancy not only minimizes pain but also empowers patients to perform exercises that improve their joint flexibility and overall mobility.
Furthermore, the resistance offered by water, when combined with the adjustable pool floor, aids in strengthening muscles around the joints, promoting endurance and further enhancing joint mobility. This is particularly beneficial for patients with conditions like stroke or multiple sclerosis, where improved coordination and balance are paramount.
Safety and accessibility are at the forefront of the design of movable swimming pool floors. They ensure that patients, regardless of their mobility levels, can enter and exit the pool with ease, and even accommodate wheelchair access, ensuring that everyone can benefit from the therapeutic advantages of water.
It's essential to emphasize that while the adjustable pool floor offers numerous benefits, aquatic therapy should always be conducted under the watchful eye of a trained therapist or physician. Their guidance ensures that patients can maximize their therapeutic gains while ensuring safety and effectiveness.
Product Movable swimming pool floor
The movable swimming pool floor enables the therapist to set the right depth for the patient. The buoyancy of the water reduces the loading on the patients' joints, making it simpler to move and practice. As a result, EWAC Medical provides movable swimming pool floors that are specifically designed and developed for medical rehabilitation. Find out more: Why do you need a movable floor?
Water offers a safe and risk-free exercise environment.
Knowledge about movable swimming pool floors
The clinical use of a movable swimming pool floor is testified in a large amount of publications, which we make available to the public through our website. Use the search field underneath this website to find articles related to any kind of diagnose that can be worked on in the pool.
Being able to change the water depth opens a large range of extra treatment possibilities and methods which would be impossible without the use of a movable swimming pool floor.
We offer the biggest collection of publications about hydrotherapy.
Experience
EWAC Medical has been designing and building moveable swimming pool floors for over 25 years and has successfully finished more than 1.000 projects worldwide. We continually work on improvement and innovation, like developing a walking surface that is non-slip but friendly at the same time.
This is why EWAC Medical is world market leader in hydrotherapy.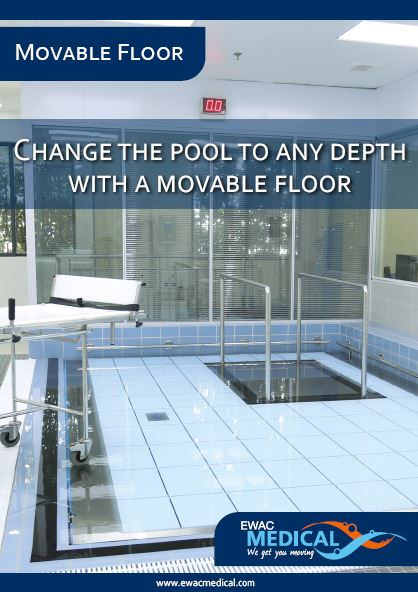 Read more about the importance of water hygiene
The importance of water hygiene in pools for hydrotherapy
How a movable floor influences water hygiene