Product Movable swimming pool floor
The movable swimming pool floor enables the therapist to choose the right depth for the patient. Because of the buoyancy of the water, the loading on the patients joints can be reduced, which makes it easier to move and practice. That is why EWAC delivers movable swimming pool floors that are suitably designed and developed for rehabilitation in the medical sector.
Water offers a safe and risk-free exercise environment.
Knowledge about movable swimming pool floors
The clinical use of a movable swimming pool floor is testified in a large amount of publications, which we make available to the public through our website.
Being able to change the water depth opens a large range of extra treatment possibilities and methods which would be impossible without the use of a movable swimming pool floor.
We offer the biggest collection of publications about hydrotherapy.
Experience
EWAC Medical has been designing and building moveable swimming pool floors for over 25 years and has successfully finished more than 1.000 projects worldwide. We continually work on improvement and innovation, like developing a walking surface that is non-slip but friendly at the same time.
This is why EWAC Medical is world market leader in hydrotherapy.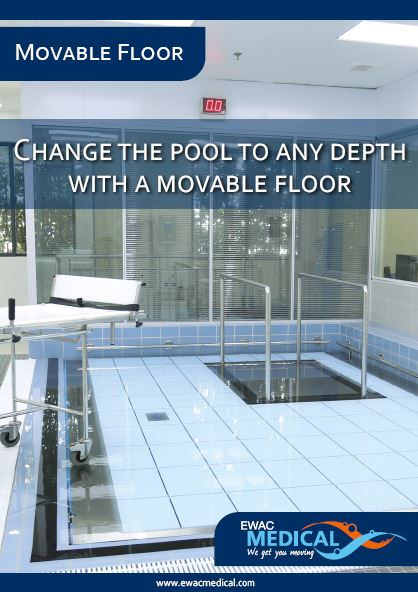 Read more about the importance of water hygiene
The importance of water hygiene in pools for hydrotherapy