A deep dive into the added value of our unique product
Written by:

Our website serves as proof that using Aquatic Therapy equipment can produce amazing outcomes. At the same time you might be wondering: "Why do I need a movable floor in my pool?". This is why we have created this dedicated article for you to get up to speed on this very unique product. After reading this article however, we do understand if you have further questions you would like to ask. If so, please go ahead and ask me a question; I'll be happy to help.
1 What is a movable floor?
A movable swimming pool floor is a specialized sort of platform that allows you to modify pool depth as needed. To move up and down in the pool, movable floors use a unique water hydraulic propulsion technology.
A swimming pool with a movable floor provides a great deal of adaptability; the platform can be constructed as new or be added to an existing facility.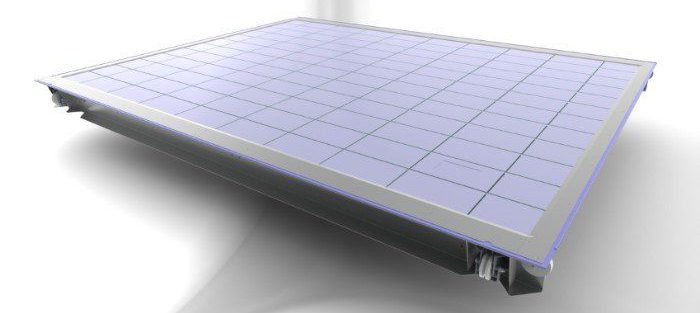 2 How does a movable floor work?
The EWAC Medical movable floor is comprised of a frame made of  marine grade stainless steel and a deck that may be customized. These pieces combine to build a platform with an integrated, water-driven cable and pulley system.
The platform-integrated cylinder works on completely safe drinking water that is pressured by a water pressure unit installed in the technical area.

It pulls on stainless steel cables by filling the cylinder with water. This moves the movable floor lower or higher. The movable floor is controlled by an operating panel in the pool room, equipped with a captive key system to prevent unauthorized use.
No electricity enters the pool because the platform is powered by water hydraulics. Because no oil is used in the hydraulics, harmful fluids cannot enter the pool and contaminate the water in the event of a leak.
2.1 Either floating or suspended
The movable floor can be buoyant, with cables pulling down on the frame, or suspended from cables in the pool walls, with cables pulling up on the floor.
The water hydraulic cylinder, which is integrated into the platform structure, operates silently to lower or raise the floor at the press of a button in all instances.
2.2 Unprecedented movement speed
The movable floor can travel the depth of the pool in 2 to 3 minutes, which is unmatched in the market. This allows pool personnel to swiftly adapt the pool to the subsequent user groups between sessions.
2.3 Frame out of marine grade stainless steel
The framing beneath the deck is built completely of marine grade stainless steel 316L. This material choice provides the movable pool floor's long-term durability because it is corrosion-resistant even in swimming pool water containing chlorine for disinfection.
The structure is designed in such a way that it also houses the water hydraulic propulsion system, requiring only a few deck parts to be removed for maintenance to reach the water hydraulic cylinder. The maintenance engineer can now work safely, and no divers are required to maintain the mechanical system, which also includes cables and pulley wheels.
2.4 Unprecedented slender frame design
The frame of the suspended pool floor has a height of only 30 cm.
Therefore:
Adding a suspended movable floor to an existing pool means you will lose only about 30 cm of effective depth of the pool
For newly built pools, the pool has to be designed with only about 30 cm of extra depth.
For a floating type movable floor, the frame has a height of only 50 cm.
Therefore:
Adding a floating movable floor to an existing pool means you will lose only about 50 cm of effective depth of the pool
For new built pools, the pool has to be designed with only about 50 cm of extra depth

2.5 Easy to maintain with limited tool set
EWAC Medical has completed numerous projects in areas across the world. In some areas, it is difficult to obtain experienced maintenance personnel, let alone the necessary tools.
Many of our movable swimming pool floors are comfortably maintained by local people. Maintenance questions are always handled within 24 hours (except on holidays and weekends), so maintenance can be organized locally with remote participation from our Service and maintenance department.
Engineers working on our movable floors should have basic mechanical knowledge and abilities, as well as the ability to follow instructions in the service manual and written instructions exchanged with our service department.
2.6 How are movable floors made?
At our facilities in the Netherlands, we develop and build the whole structure for the movable pool floor. The facility includes the manufacturing plant as well as different storage, manufacturing, and floor assembly areas.
Our factory is supported with cutting-edge technology such as laser cutting, bending, machining, grinding and polishing. Because we work exclusively with stainless steel, other contaminating materials such as normal steel are not allowed to be processed in our factory.
All our factory halls are dedicated to separate functions:
Fabrication
Water treatment assembly
Final assembly and testing
Before they leave our factory, all of our projects are assembled and thoroughly tested. Following shipment and unloading at the construction site, EWAC dispatches a professional technical team to carry out the installation on-site with client assistance. The installation is turned over to the client after commissioning and final approval.
2.7 The design process of a movable floor
Our movable floors are designed in our dedicated engineering department using the most advanced 3D engineering technologies. The design process is governed by stringent norms and workflow:
Submission of Autocad drawings by the client's design bureau or architect
Preparation and submission of Autocad proposal drawings to the client
Approval of proposal drawings
Basic design
FEA design validation (if applicable)
Detailed design
Preparation and approval of production drawings
Preparation of assembly and testing protocols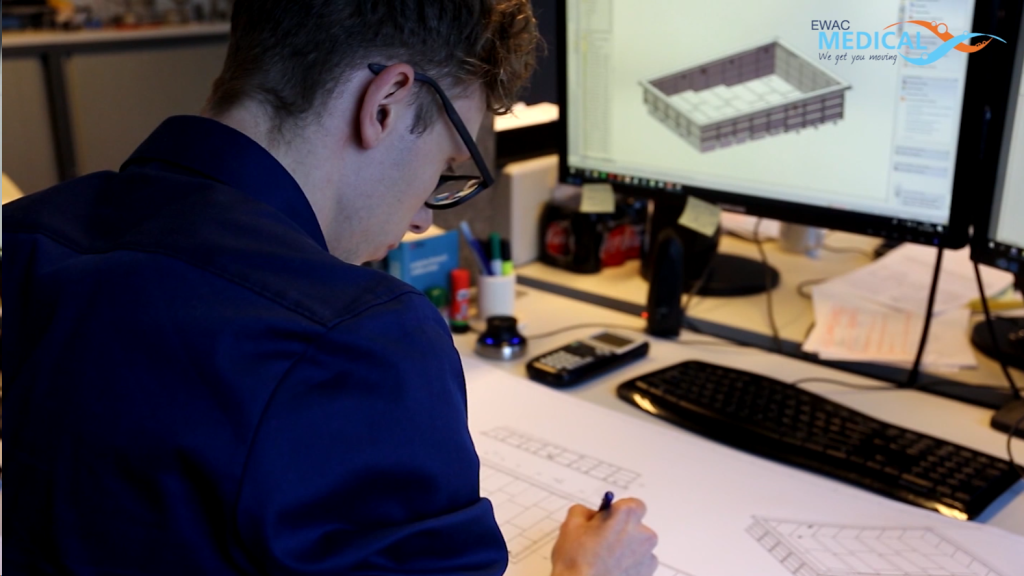 A hydrotherapy pool design includes much more than just the pool; consider changing areas, toilets, showers, user flow, and logistics. See our separate article about Design and planning: https://www.ewacmedical.com/planning-and-design-of-hydrotherapy-pool-equipment/
3 What are the benefits of a movable floor?
3.1 Turn the pool in a multi user friendly area
A pool with a moveable floor can be used for multiple purposes. Rather than having a fixed depth, the pool depth can be modified to meet the needs of the individual user group present in the water.
For example, even within groups of children, there may be a disparity in height (depending on age) or children's swimming competence.
Read more about this in The Importance of the Right Depth.
When adults use the pool, there might be a significant disparity in swimming ability, and the flexibility to adjust the pool depth can accommodate the needs of any group.
Also, the pool can be used for a wide range of aquatic activities, such as:
Water aerobics
Aqua Zumba
HIT (Hight Intensity Interval Training)
Deep water running
Aquamat
Aquacycling
Aquadance
Several Methods of Aquatic Therapy 
In brief, movable pool floors transform aquatic facilities into multipurpose places that maximize possibilities by drawing diverse sorts of customers to a single location.
With a movable floor in the pool, the facility can diversify and grow the pool's revenue stream because the pool is available to a far broader range of user groups than a standard pool without a movable floor.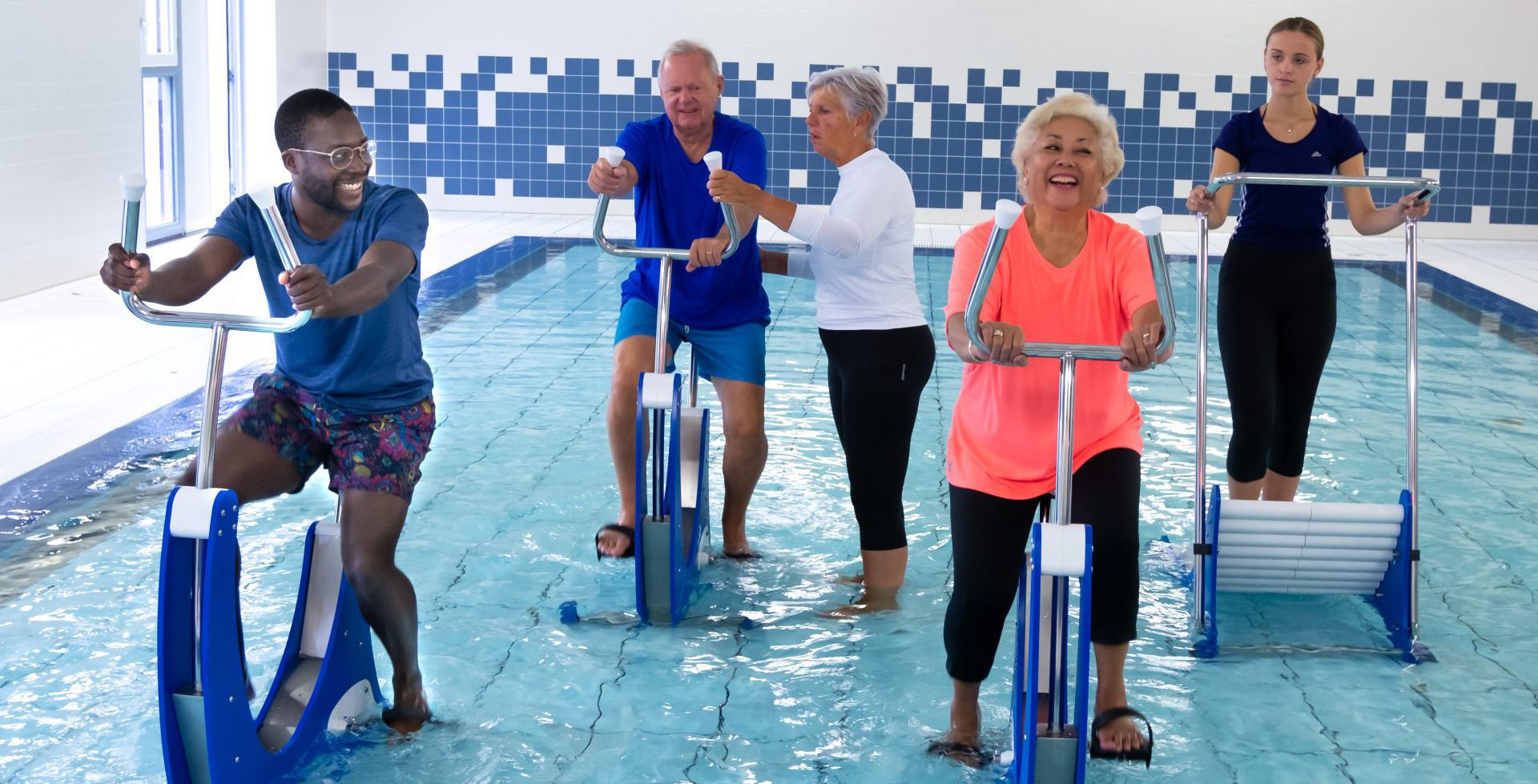 3.2 Energy savings and reducing chemical use
The main way the pool loses heat during the day is by evaporation of the water. This can be avoided by placing the movable floor at deck level in the evening, which prevents evaporation and saves a significant amount of energy.
The amount of chemicals utilized by the pools to maintain an appropriate level of disinfection is also reduced due to the decreased amount of water evaporation during off hours.
3.3 Generate more income
Pool operation is expensive due to the comparatively high energy usage. To keep the books balanced, the pool should appeal to as many different user groups as feasible. You can fill every hour of the day with income by putting effort into developing group-oriented water-based programs. A movable swimming pool floor might be an excellent tool for accomplishing this goal.
The pool's depth can be adjusted by raising or lowering the floor. This expands the aquatic alternatives available while also providing a level floor space when the pool is not in use. Movable floors have acquired significant recognition in recent years as a way to boost profitability while also addressing space and safety problems.
Movable pool floors can be retrofitted to existing facilities as well as newly installed ones. This could assist to revitalize an existing swimming pool. Because the EWAC Medical movable floor's propulsion system is built into the platform, retrofitting the movable floor in an existing pool is minimally invasive.
By installing not one but more movable floors, a swimming pool can accommodate an even wider range of activities. For instance swimming lessons in one part, and aqua fitness in the second part of the pool if it is fitted with two movable floors that are set at different depths. Movable pool floors can be incorporated into both existing and newly constructed facilities. This could help to rejuvenate an existing pool. Because the propulsion mechanism of the EWAC Medical moveable floor is incorporated into the platform, retrofitting the movable floor in an existing pool is minimally invasive.
A swimming pool can support an even broader range of activities by adding not one, but multiple moveable floors. Swimming instruction in one section and aqua fitness in the other, for example, if the pool is equipped with two moveable floors which are set at various depths.
Contact us to find out more:

4. Accessibility and safety
The pool is made more accessible for patients in wheelchairs or on stretchers by lifting the adjustable floor. They can simply be rolled onto the movable floor, which is then lowered into the pool, allowing the patients to gently become buoyant in the water. This is the most secure method of patient handling.
To increase the accessibility of the pool further, patient lifts and self-adjusting stairs can also be added to the pool. See:
When the pool is not supervised during the day, there is always the minute possibility that someone willfully penetrates the closed off pool area, falls into the pool, and drowns. Because the entire water surface is now unreachable, placing the movable pool floor at deck level reduces this risk to nearly zero.

5 Types of movable floor
EWAC Medical offers two types of movable floors:
Floating type movable floor (for larger pools)
Suspended type movable floor
They have been designed, and are being used in:
Private residential pools
Super yachts
Hotels and leisure centers
Sports clubs
Professional rehabilitation(Aquatic Therapy)
5.1 Private – Turn your pool into a terrace!
The pool is entirely hidden from view when the platform is lifted. This frees up room for you to utilize as a children's play area, a terrace, or even a reception hall if you have an indoor pool. With a movable pool floor, you don't have to compromise on the size of the pool you desire, and you can actually make the greatest use of the available area.
A movable floor in a private pool makes it much easier to keep the pool clean because no leaves or other debris may enter the pool while the floor is lifted. When raised, it also acts as a thermal blanket, reducing evaporation and thus energy loss.
5.2 Super yachts – Turn the sun deck into a multi use area!
EWAC, as a diversified firm, also owns the EWAC Marine brand. EWAC has completed many specialized movable floor projects under this trademark that were particularly adapted to the needs of the final customer.
The moveable floor in some of these installations was meant to also function as a helicopter landing pad, making these the strongest movable swimming pool floors ever commissioned.
The aesthetics of the movable floor, which must blend in with the surrounding terrace and ship architecture, receive special consideration in Super Yacht projects. Technical features are hidden as much as possible, resulting in a sleek, minimalistic look.

5.3 Hotels and leisure centers
The movable floor comes to life in hotels and leisure facilities as a feature that increases safety while also expanding pool utilization.
It is unsupervised, especially during off hours, which might result in a drowning in the worst-case scenario. This risk is eliminated with a movable floor, as the floor can be set to deck position in the off hours, preventing people from falling in.
With a movable pool floor, the pool becomes significantly more versatile during open hours. With different depth levels set by the staff during the day, the pool can be turned into a:
Paddle pool for children (shallow depth)
Relaxing pool / aqua-aerobics / Aquafitness (intermediate depth)
Swimming pool for adults /Deep water running (maximum depth)
EWAC Medical can change the aesthetics of the moveable swimming pool floor to the wishes of the hotel or center's interior designer so that it mixes in nicely with the surroundings.
5.4 Sports clubs
Sports clubs love the installation of a movable floor to the pool because it greatly enhances the pool's usability.
With a movable floor, the pool can be set to create the optimal circumstances for a wide range of water based fitness activities, such as:
Water aerobics
Aqua Zumba
HIT (Hight Intensity Interval Trainnig)
Deep water running
Aquamat
Aquacycling
Aquadance
Also, several of our underwater exercise equipment products can be installed and used in the pool:
The underwater treadmill, in particular, is a terrific addition to any sports club's pool area. Clients who have been (mildly) injured can utilize it to swiftly get back on track in low gravity circumstances. Especially run-stop-pivot athletes can greatly enhance their leg strength while also developing the coordination muscles that are necessary in the swing phase of the gait process.
5.5 Professional rehabilitation (aquatic therapy)
The EWAC Medical movable swimming pool floor is mostly used in swimming pools for professional aquatic rehabilitation (Aqautic Therapy).
The unrivaled water permeability not only contributes to water hygiene, but also results in a movable floor that can pass through the water fast and efficiently, allowing rehabilitation personnel to easily switch between client groups.
Clients have assured their footing during the exercises performed on the movable floor thanks to its non-slip tiles. The movable swimming pool floor can be adjusted to accommodate a variety of methods of aquatic therapy, such as:
Water Specific Therapy (WST)
Halliwick
Bad Ragaz Ring Method (BRRM)
Clinical Ai Chi
Aquatic motor-cognitive therapy (AMCT)
Aquatic Passive Manual Handling (APMH)
Aquatic Cardiovascular Training (ACT)
Aquatic High intensity iterval training (AHIIT)
Deep water running (DWR)
To find out more about methods in aquatic therapy: https://www.ewacmedical.com/seven-methods-in-aquatic-therapy/
The functionality of the pool can be further enhanced by including our underwater exercise equipment products:
Underwater treadmill (link)
Underwater bicycle (link)
Pooltrack curve (link)
Aquatic obstacle course (link)
Read more: Planning and design of Hydrotharapy pool equipment – Practical considerations for Aquatic Therapy
6 Movable swimming pool floor – How is safety ensured?
The EWAC Medical movable pool floor provides maximum safety for both pool users and pool staff.
The cable and pully system is designed with redundancy in mind
The maximum gap across the entire pool surface, including the pool walls and pool floor, is only 8 mm. As a result, the chance of entrapment is virtually eliminated.
Water circulation in the pool is not disturbed due to the optimal water permeability of the EWAC Medical movable pool floor, ensuring that disinfection agents used can reach all locations within the pool volume.
To allow water to move through, no intermittent gratings are employed (as with other suppliers). Intermittent gratings prevent an adequate flow of water from passing through the floor, resulting in dead zones where water is not replenished and disinfected. The EWAC Medical moveable floor is water permeable throughout! For more information: See our presentation "How a movable floor affects water hygiene".
When the pool is unsupervised, raising it to deck level prevents anyone from falling in. This provides optimal security: when the floor is fully raised or merely set to a shallow depth, the adjustable floor helps to decrease the risk of drowning. The movable floor is the best pool security system on the market because of this.
Unlike other vendors, the EWAC Medical movable floor operation panel does not allow the movable pool floor to move or make automated adjustments on its own. During floor movement, pool staff must be in a position to monitor the entire pool and promptly stop the floor from moving if they spot a possible threat.
To prevent unauthorized access to the operating panel, EWAC Medical employs a captive key system or pin code so that only competent personnel can modify the position of the movable floor in the pool.
The EWAC Medical Movable swimming pool floor is fitted with a very user friendly operating panel in two versions:
Physical buttons with a captive key system
Pin-code protected touch screen interface
To warn the users of the pool that the floor is moving, audible and visible warning signals can be implemented in the pool area.
The surface of the EWAC Medical Movable floor consists of non-slip tiles. These non slip tiles have been tested according to the rules of the EN 13357-1 Annex 1. See: Slip safety of EWAC Medical movable pool floor reconfirmed
The EWAC Medical movable floor is certified as a Class I Medical device according to the MDR. As a result, it fulfills the market's highest safety and hygiene standards and has a faultless safety record in more than 30 years of operation.
EWAC Medical is an ISO 9001 certified manufacturer as well as an ISO 13485 certified manufacturer. As a result, EWAC Medical has the exclusive right to create, test, and certify Class I Medical products. See: About us
7 What is the price of a movable swimming pool floor?
A moveable swimming pool floor can transform a failing facility into a profitable and exciting space.
The investment costs depend on many factors, such as:
Surface area of the pool
Depth of the pool
Deck finish required
Implementation indoors or outdoors
Pool geometry(square, round or other shapes)
Contact us to enquire for your specific situation
8 Environmental concerns
Implementing a movable floor raises the environmental performance of the entire pool. These are the main reasons why:
The movable pool floor frame is made out stainless steel 316L. This very durable product is very sustainable, as it is produced from recycled steel.
In the top position, during off hours, the floor serves as an energy saving blanket. Most of the heat is lost due to evaporation of the pool water and the movable floor prevents this from happening.
Not only heat energy is saved in this way, also water consumption of the pool is reduced by the lower level of evaporation
At the same time, the consumption of water disinfecting agents (such as chlorine) is reduced with the lower water consumption
An EWAC Medical movable floor is made of high-quality recycled materials that will last for at least 25+ years, and is therefore very durable.