A movable floor can significantly improve the functionality of any pool. Here are five reasons to invest in a movable swimming pool floor.
1. Invest to increase usage of the pool
By installing one or more movable floors, a swimming pool can accommodate a wider range of activities. A movable floor allows the user to change water depth. Instead of having the pool at the same depth whole year around, the user can change depth several times a day! For example deep water (for deep water running); waist deep water (for adult balance and gait exercises) or shallow depth (for pediatric therapy).
A wider range of activities can attract the number of visitors and boost revenue.
2. Generate more income
Pool operation is costly. To balance the books, the pool should be attractive to as many user groups as possible. By investing some effort to develop group oriented water-based programs, you can fill every hour of the day to generate income. A movable swimming pool floor can be a great tool to achieve this goal.
3. Environmental friendly
When raised, an EWAC Medical movable floor limits swimming pool heat loss and water loss (through evaporation). The floor basically functions as an insulating layer on top of the water. Also, an EWAC Medical movable floor is made of high-quality materials that will last for at least 25+ years, therefore very durable.
4. Safety and accessibility
By raising the movable floor, patients can easily be transferred into the pool by wheelchair or stretcher. This is the safest patient handling solution possible. To increase the accessibility of the pool, we can also add patient lifts or self-adjusting stairs.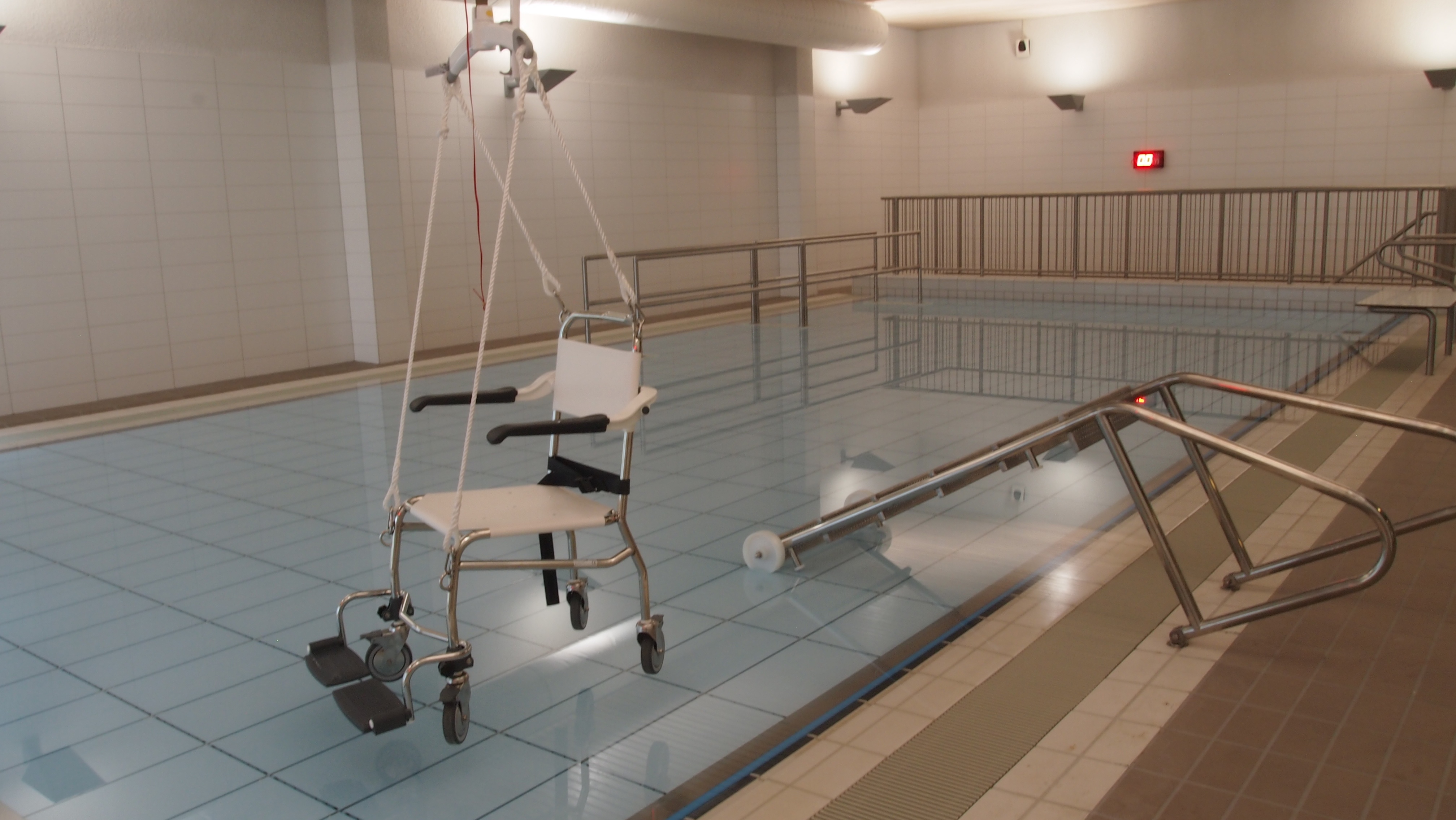 5. Water hygiene
Water hygiene is extremely important in a pool. Pool water should be checked regularly on (invisible) bacteria or other various micro-organisms. 'Dirty' water can become infectious, having disastrous consequences for (vulnerable) patients.
To maintain water quality, EWAC Medical has designed a movable floor with space between the tiles. Because of the space between the tiles, fresh water can flow through.
This guarantees optimal water hygiene and patient safety. EWAC Medical can test this by performing dye tests. These tests are been carried out according to the regulations as described in EN 15288-1:2019.